Lost in translation?
Are you about to introduce your product on the Swedish market?
Do you wish to communicate with your clients or business partners in Swedish?
Do you need help translating your English product related documentation into Swedish?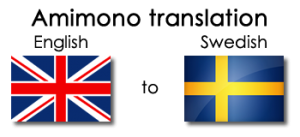 Expertise
My areas of expertise are, for example: life-sciences, research, medicine, microscopy and cell biology. Other areas that I care about are health, nature, literature, photography, food and Japanese history & culture.
Software
I am using the latest version of the world's leading CAT (Computer Aided Translation)-tool, SDL Trados Studio, which supports most source file types. In combination with the human skills this software maintains the high quality of your texts through accurate use of relevant and consistent terminology.
Languages
Amimono offers expert custom-made freelance language services such as translation, reviewing and post-editing of texts. My native language is Swedish and I translate from English (full professional level) and Danish (basic professional level). I also possess knowledge of German (basic level) and of Japanese (beginner's level).
Goal
Your satisfaction is my priority and communication is key. Your project will be in good hands and treated with care to keep the quality, terminology and style the way you like them. Your texts will be delivered back to you well before deadline.
Pricing
When every word counts, please contact me for a discussion on your linguistic needs and pricing.